While railroading remains an essential function during and post pandemic, the world will be impacted in various ways – including how we train employees. And capitalizing on methods that work within the new normal must be part of every railroad's strategic planning.
Having contactless, FRA-compliant training options that are available anytime, anywhere and are scalable to meet the needs of railroading's entire workforce, is where simulation based training comes in.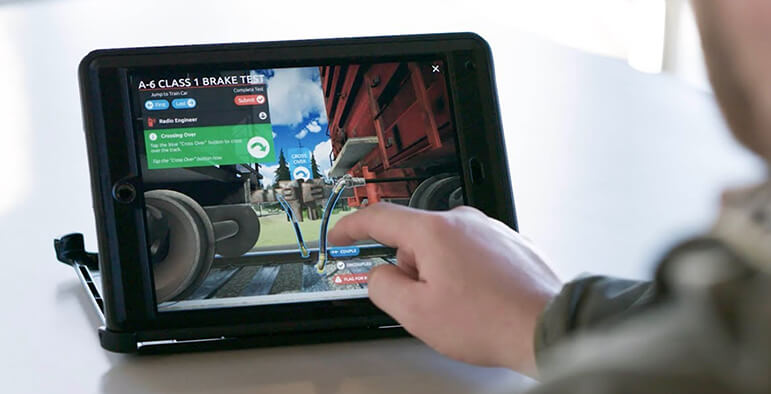 QMIs (Qualified Mechanical Inspectors) Carmen have an exceptionally crucial role in railroading, and lots of variables to look after. Railroads have a correspondingly crucial task of ensuring training meets FRA guidelines in every way – and again, many variables to monitor.
And virtual interactive technologies offer a way to enhance the effectiveness of each. Let's see how that would look – and how it already does at Norfolk Southern, BNSF, CSX and more.

FRA Guidelines & Challenges
FRA guidelines are clear – and we know railroads are well aware of them, but sharing here as they form the basis of the solution that follows. In CFR 49, Section 232.02, each railroad or contractor that employs one or more safety-related railroad employees is required to develop and submit a training program to FRA for approval. And they must designate the minimum training qualifications for each occupational category and conduct periodic oversight, including annual written reviews of their own training programs to close performance gaps. They also must keep accurate records same, and have this information available when requested.
So now, let's break down where the challenges lie.
First, railroads do an amazing job keeping QMIs expertly trained. But with so much at stake, ensuring that last part of the requirement is rock solid, and that any performance gaps are closed, is an area where there is always room for improvement.
Minimum Training Requirements
As most railroads go well beyond the minimum training qualifications for each craft, having an accurate and immediate assessment of how those minimum qualifications actually look at your railroad would be helpful on many fronts. It would identify:
Learning gaps for timely remediation.
At-risk areas that are easily overlooked – those items that fall outside of typical QMI purview, but critical to capture before they break. For example, with the air brake test, there are 14 different pistons to check and corresponding measurements to take. They're all equally crucial to the safety of the train crew and civilians.
Areas where some QMIs may be excelling, which is always handy to know when particular expertise may be required.
Training Time & ROI
Time is another factor. QMIs are busy, railroads are always "on" and finding time to pull away and train in a classroom setting is a challenge unto itself. And then there's testing for mastery and keeping track of those results in an efficient manner. There are some pen and paper holdouts, making the process of identifying a local QMI require a phone call to the correct person, instead of a railroad-wide accessible option.
The ROI of training is always important as well, of course. Is your railroad doing all it can with its QMI trainers? Could their expertise be harnessed and used to more deeply focus on trouble spots, and help others in their craft attain a higher level of understanding, rather than general, minimum requirements?
Training for Emergency Situations
And what of emergency/dangerous situations where QMI Carmen are unable to participate in real-world trainings? Working on an actual freight car in a classroom is great, but replicating stressful situations where immediate decisions are necessary (and not often, if ever, required) could save lives.
So, which of these challenges can simulated training help with? All of them.
Much like it is currently being used to enhance Conductor and Freight Car Mechanics' training for CFR 232, an interactive 3D simulated training has the potential to revolutionize the entire QMI Carmen process, from start to finish.
Air Brake Test Virtual Simulation

In the Simulation Training above, "students are able to visually inspect a variety of randomized freight cars, as part of a train, while manipulating brake components as necessary to properly configure the brake system. The student determines correct brake pressure and inspects for brake application and release via an exam practice mode. And this gives the student additional practice at their pace, from any device, with a record of their performance given at the end."
That last part is an unexpected and welcome discovery for any railroad taking the simulated training plunge – training is not restricted to a classroom setting. Nor does it require the instructor to be in the same room, or even the same state. It can happen anytime, anywhere and be remotely recorded, logged and assessed for mastery. And beyond that, the training can create a tailored approach that identifies and remediates repair and inspection gaps.
So, rather than feel as if your hands are tied in some areas and potentially assigning many hats to one person, railroads can build a program that can be remotely deployed and help QMIs enhance their expertise – and your railroad's safety. It's truly a win-win scenario.
We would love to talk to your team about the Air Brake Test Sim and QMI potential, for every craft. Reach out here to get the conversation started!